You can use this instrument to help you discover the primary gifts given to you at your spiritual birth. We encourage you to invest time to learn what these gifts are and what they are not. See where these gifts fit into the functioning of the body. When you are working within your Spirit-given gifts, you will be most effective for the body of Christ in your local setting.
Online Course
Dr. Greg Wiens teamed up with Jeannette Flynn to create a course on Spiritual Gifts to help you unpack your spiritual gifts. They recorded a series of videos to review the basic concepts behind this instrument, explain how certain gifts are grouped into themes to help you understand the results on your report, and consistently encourage you to examine your experience serving in your local church in light of your results. Throughout the course, Greg and Jeannette focus on how gifts are used to benefit the Body of Christ in your church with an emphasis on using your results to guide your journey rather than define your specific gifts. Read about Greg and Jeannette here.
To encourage participation, we've created a FREE eBook, A Field Guide to Spiritual Gifts: The Companion Guide to Healthy Growing Leaders' Spiritual Gifts Assessment, as part of this course. The details of the course are here: https://learning.truewiring.com/spiritual-gifts-with-truewiring/.
Online Course
---
Special Abilities
We know that the Holy Spirit takes up residence inside of us when we accept Jesus Christ as our personal Lord and Savior(John 3:5 and Romans 8:9), and we are told we are given the manifestation of the Holy Spirit.
Why do we receive spiritual gifts?
"But to each one is given the manifestation of the Spirit for the common good." – 1 Corinthians 12:7
"Seek that gifts may abound for the edification or the building up of the Body" – 1 Corinthians 14:12
"As each one has received a special gift, employ it in serving one another, as good stewards of the manifold grace of God." – 1 Peter 4:10
According to Scripture, we receive spiritual gifts for the "common good," "for the edification or the building up of the Body," and for "serving one another."
A great deal of confusion concerning spiritual gifts exists today just like it did in Paul's day. Rather than the people ignoring spiritual gifts because of this problem, Paul tells the Church at Corinth that he does not want them to be ignorant on the subject (1 Corinthians 12:1). He then dedicates the next three chapters trying to clear up their confusion.
Biblical Foundation
It is vital that you take time to examine what the Bible says about spiritual gifts. It's a journey worth taking! This subject is explicitly addressed in Romans 12, 1 Corinthians 12-14, Ephesians 4, and 1 Peter 4. Responsible Bible study necessitates we understand the central thrust of each of these passages.
The Assessment
The Spiritual Gifts Assessment instrument includes nearly 100 items that ask you to respond to items like the example shown here.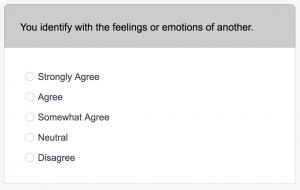 Based on your responses to the items, the report provides a list of 17 Spiritual Gifts in rank order. (These are listed below for reference.) The results can be divided into three groupings: Dominant, Supporting, and Other. These designations are intended to give you insight into where to begin exploring the use of your gifts. The percentage shown indicates how you scored compared to thousands of others who have taken the same assessment.
---
List of Spiritual Gifts Assessed
Administration

develop, articulate, and accomplish tasks for the accomplishment of the objectives for the Body.

Apostleship

articulate the Gospel in places that are geographically, socially, ethnically, or culturally different from one's background.

Discernment

perceive the motives, intentions, and sincerity of others within relationships concerning the Body.

Encouragement

counsel, model, and encourage people through one's personal testimony, life, and scripture so people are comforted and encouraged to action.

Evangelism

share the Good News of Christ in a relevant manner with people far from Christ so they respond positively to become disciples of Jesus Christ.

Faith

envision with clarity and confidence in God's future direction and goals for the Body.

Giving

give liberally to meet the needs of others and support God's ministry with the resources which God has entrusted to you.

Hospitality

reach out to others and welcome them into your home and life in a loving, warm manner. These guests feel "at home" in your presence.

Knowledge

discover, analyze, accumulate, systematize, and articulate ideas that are essential for growth and building up of the Body.

Leadership

set Godly objectives, make decisions, communicate, and motivate them to the Body so others willingly follow and joyously work to accomplish these objectives.

Mentoring

instruct, guide, and care for believers in a smaller expression of the Body so they are equipped to reach out in ministry to others, both inside and outside the Body.

Mercy

empathize with those in need (especially those suffering and in trauma) and to manifest empathy so those in need are strengthened.

Prophecy

publicly or privately speak the Word of God so people are convicted, consoled, encouraged, challenged, or strengthened.

Service

unselfishly meet the needs of other people through practical service that is most often done behind the scenes.

Shepherding

nurture a group of believers by caring for their spiritual welfare in a holistic manner on a longer-term basis.

Teaching

communicate instructions so members of the Body understand how to apply spiritual principles to their own lives and ministries in an everyday context.

Wisdom

gain insight on how knowledge may best be applied to specific needs in the Body of Christ. This involves applying Biblical truths to everyday situations.
---
We encourage you to schedule time (15-20 minutes) to take the assessment. Then reach out to one of your leaders to discuss how you can use your unique gifts to develop your ministry for the body of Christ at your local church.
FREE Download – Summary of the TrueWiring Spiritual Gifts
Further Reading
An Overview of Spiritual Gifts: The Companion Guide for this Assessment